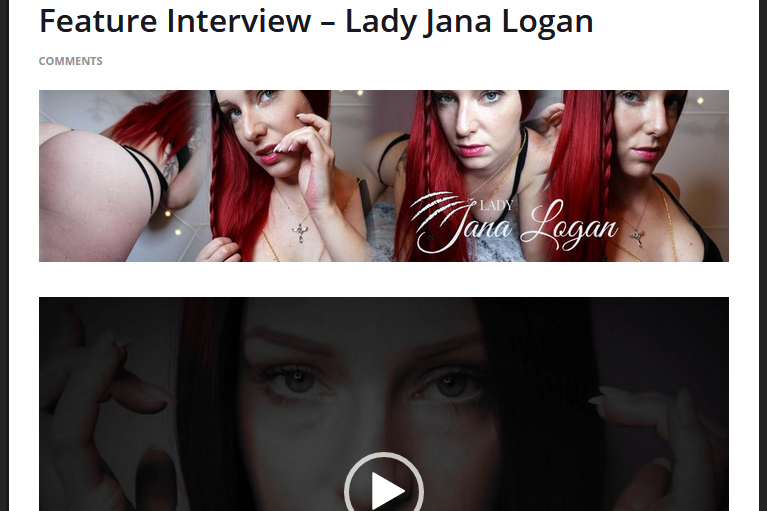 Durch SlaveboySmith wurde ich am Wochenende
für das Portal Dommeaddiction
interviewt.
Herzlichen Dank
für dieses grandiose Interview
und den Beitrag auf eurer Seite.
Meinen Fans möchte ich das natürlich nicht vorenthalten.
---
slaveboysmith: For any who follow you, it is very evident you control men with ease. Has that always been the case? Do you recall when you first realized the power you hold over men?
Lady Jana Logan: My eyes and my charisma have always had a special effect on men. I love it when they eat out of my hand. I've been officially on the fetish scene since 2018. I love the feeling of power.
sbs: Are you naturally dominant in every aspect of your life, or is Femdom more a roleplay for you when interacting with slaves?
LJL: I am the listener in my job. I have to deal with many people who complain of their suffering. As a matter of contrast, the slaves are listening to me now. So no, I'm not dominant in my job, but I am completely dominant in my partnerships.
sbs: If you could have one celebrity, or well known person, completely at your mercy, willing to do anything you demanded of them, who would it be, and why?
LJL: I am a big Marvel comics fan. My favorite is Tony Stark. I love his intelligence and his arrogant charisma. He would be allowed to develop a program like Jarvis or Friday for me so that I can better control my slaves.
sbs: Is there a specific type of slave you find is drawn to you? Can all submissive men be persuaded to slip across that line into financial domination?
LJL: Most of the men who come to me like my mindfuck techniques. I am a passionate psydomme and play with the synapses of my slaves. When I put men into a trance, they become unable to resist and disclose everything. With my methods I get every man to do what I want.
sbs: Do you prefer to break and enslave men who might resist, or use well-trained ones that are already broken in?
LJL: I love the challenge. Men who fight back are much more interesting. The others, which are already broken, are skimmed to the minimum.
sbs: Are there specific fetishes you enjoy exploring with your slaves?
LJL: I am open to many things! But mainly I like the combination of Psydom and Findom. Breaking the slave's psyche is my job. I also like other areas like, sissy education, chastity, weighting education, blackmail and more.
sbs: Can you describe the feeling you have when you have control of a slave, desperately doing whatever it takes to please you? Is it a rush, or just an expected outcome you've grown used to?
LJL: The feeling of power makes me very horny. It excites me! I love it when slaves make themselves idiots for me. At first I felt a little pity, but now it makes me laugh.
sbs: How can you tell when you've completely broken someone and they are unable to resist you? Is there a "tell" of some kind that lets you know you've taken total control?
LJL: My goal is to be their first thought in the morning and the last one in the evening. When I have achieved that, total devotion is not far away. I can't describe it, I just know it.
sbs: Have you ever been recognized in public? If so, how does the slave react to seeing his ultimate Goddess in person?
LJL: No, not so far. I value my privacy. You will only recognize me if I allow it. I have had a lot of real meetings. My slaves enjoy my presence very much.
sbs: For slaves looking to impress you, what is the best way for them to show you they are sincere in their desire to serve and spoil?
LJL: To secure my attention, the slave must stand out from the crowd. I get a lot of emails every day, so I quickly decide what is interesting and what is not. So don't waste my time. Send me a tribute or a gift. Be creative and individual.
sbs: If you would oblige me one final question…if we were conducting this interview in person, how would it end?
LJL: I already felt an attraction during our conversation. I would have you kneeling in front of me begging to be allowed to kiss my shoes.
---
Das komplette Interview findest du
HIER
Lady JanaLogan